1. Local daycare center visit and meal support

There is an area called Sergelen which is 40 kilometers away from our Bayanhoshuu area. This area has a worse living environment than Ulaanbaatar. Parents leave their children at the nursery school and pick them up in the evening because both parents have to work and earn money. It is not a well-equipped kindergarten as in Korea; we regularly visit and pay for food and necessities because most of them live on rescue goods. Most children start going to nursery school from 3 years old (4 years old in Korea). We plan to increase the number of visit and support. The top photo is the children and the bottom photo is the local parents and guardians.
2. Grandparents and grandchildren family life support project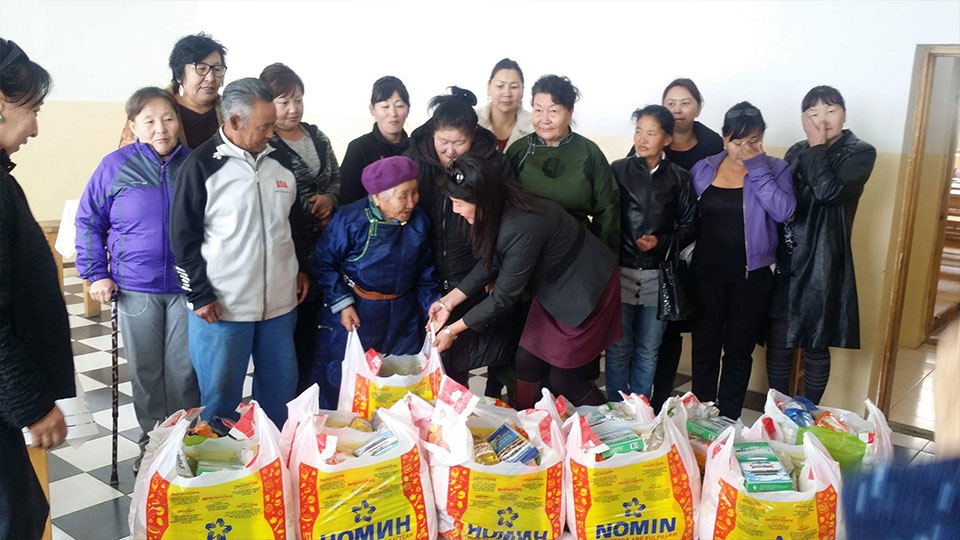 This project takes place every month and most children have divorced parents or are living with their grandmother or grandfather. There is a high percentage of children living with grandparents. Therefore, it is not enough to live only on the government pension; I rotate the designated households every month to purchase the commodities worth about $ 30 a month. The reason I do not support cash is because there are families with alcoholic.
3. Christmas Festival

Every year, the children participate in a festival that announces the birth of Jesus along with the year-end events. With 70 years of Russian colonial rule, social dance and festival culture have been established from elementary school. It is becoming another festival and thanksgiving place to consider the more difficult neighbors and also to build up faith through Christmas, the event of God was born a human being. On this day, we had about 200 children massed together. After the service, we had delicious dinner and performances prepared by ourselves.
4. Local Healthcare Project

This project has been implemented to run on the last Friday of each month since January of this year. It does not directly use the donations of the Foundation, but is carried out in cooperation with the Sisterhood and the local medical health officials dispatched here. Clinics are composed of pediatrics, internal medicine, physical therapy and pharmacy. We are mainly taking care of children and elderly people, and also reviewing to provide healthcare centers and mobile clinics based on further evaluation. The above picture is Mongolian expression "We are all precious" and the picture below is a picture of medical treatment.
5. Coal Supply Project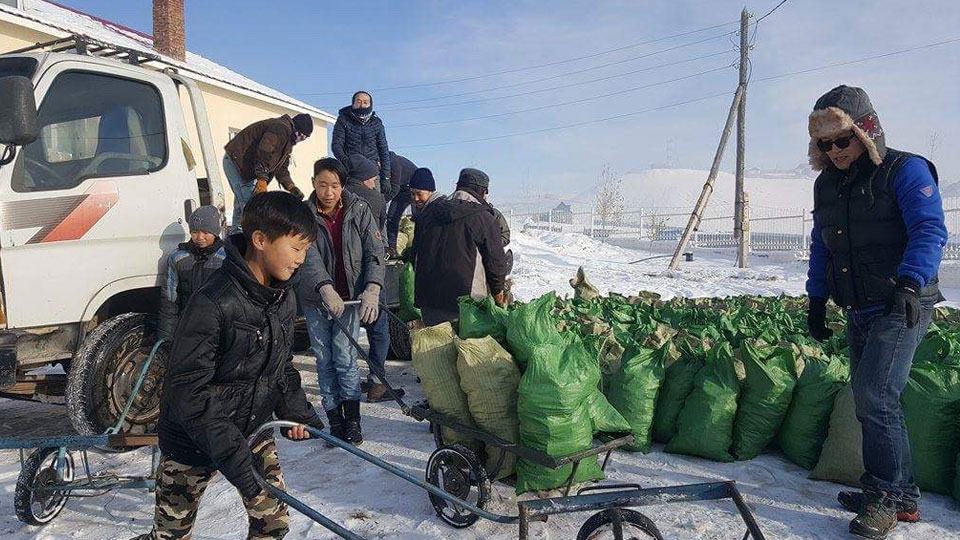 Winter in Mongolia starts in mid-October and runs through mid-March. The average temperature is minus 35 degrees to 40 degrees in Celsius. Most of the area I live in uses coal directly to heat and use hot water. The price is 5,000 Korean won per one unit, but it is heavy burden for someone with monthly income of 200,000 won. So the project to supply coal regularly is a great help for the local people. The person shown in the picture is the author, me, and I distribute it per family. A cart is a universal means of transportation that can be also used to draw water.
6.Effect of using donation
1) Direct sponsorship
In human life, basic food, clothing, and shelter is a living condition that is fundamentally pursued everywhere. Food, clothing, and especially residential environment that protects and keeps the body temperature is an essential element in Mongolia. Having basic flour, water, winter coats, coal, and tents would be closer to survival than living here. Therefore, many of Mongolians live with the heart of gratitude.
2) The effect of solidarity
Those who live in the Mongolian highlands are the people who live with their own emperor's honor, the Genghis Khan. It seems that such peoples often do not have a lot of bonds and solidarity with other people. However, I learned that I can help and share with love and interest, not sympathy or compassion. Directly, they are grateful and thankful for the mothers who support the children. Indirectly, it is significant that there is a growing feeling that they can also give them to those who are in more difficult situations.
3) Cultivating the Gospel Spirit
As Jesus said, love the Lord and love your neighbors is a new promise. Jesus' love, giving his outer garments and underwear, as well as his life, is the essence of love above any other love. Although children still cannot express this faith and love in a sophisticated way, it is rewarding to see that the love of Jesus has been rising in their heart with the food and things received and the spirit of sharing has been shown to children who are poorer than them. I hope that God would see that all this was good.
7. Age and name of children
Weekdays (including Saturday)
50 children in between 7 and 15 years old (20 boys, 30 girls). Running English, Korean, and computer study rooms Monday through Saturday.
Sunday
100 children in between 3 and 17 years old (40 boys and 60 girls). At 11 am, they will have lunch and then athletic meet after Sunday Mass
Up to now, we have highlighted only important topics. I will not comment on the feeding project that we distribute and pay for every Sunday and the project that we reported in the last year. I apologize for any inconvenience caused by the deadline being imminent. This is our second year report and we have a year left. Your sponsorship is very important to run the rest of the project. We have received this kind of support with the help of my Lieutenant in the United States and we would appreciate your help for the remaining year.