GCF 2017 First Half Sponsorship Report
1. Newsletter : "Children look forwad to Sunday Meal Program"
It has been seventeen years since I started traveling every Sunday through 28 churches pioneered in the Chiapas jungle area along with food and children's evangelism. On Feeding Sundays, when the children are gathered at the church through word of mouth, for about three hours,
First, we share the food prepared (chicken soup, tortilla, yucca)..
Second, evangelize with the Bible story.
Third, provide hygiene education and nutritional supplement. When the vitamin supply and the anthelmintic administration are finished, the children return home waiting for the next Feeding Sunday.
Children in jungle villages are full of roundworms, all malnourished, their faces pale and having dry patches. As a result of this precious donation from the GCF to these poor children, regular feeding, vitamin feeding, and anthelmintic treatment have resulted in the restoration of many children with their pretty faces. Above all, children participating in the meals program believe in Jesus and are to be saved. It is the glory of God and the grateful fruit of the GCF mothers who endowed with loving care. I am sure that it is an extension of the kingdom of heaven, and I would like to express endless thanks to all the GCF's mothers and bless you in the name of the Lord.
2. Sunday Meal Program
Date and time: April 23, 2017 (Sunday)
Location: Santo Domingo Ocosingo, Chiapas
Number of persons: 119 (4 to 16 year olds)
In the village of Santo Domingo, when the first Feeding Sunday started in 2012, there were only about 10 children. On Sunday, April 23, 2017, 119 children participated in the lunch and the meals program was conducted for about 3 hours. The place was small so it was divided into two sessions, from 4 to 11 years old, and then from 12 to 16 years old. After that, the Bible story time, hygiene education time (washing face, brushing teeth, washing hands, and wearing shoes), and vitamin supply (vitamins, and anthelmintic drug administration) were conducted outdoor.

Serving Meals: Age 12-16 (Left), age 4-11 (Right)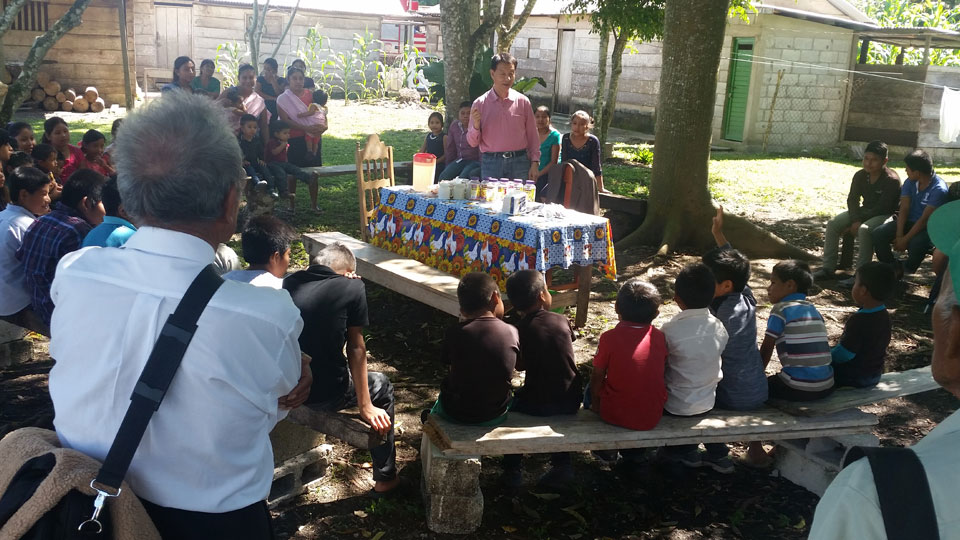 Bible and hygiene education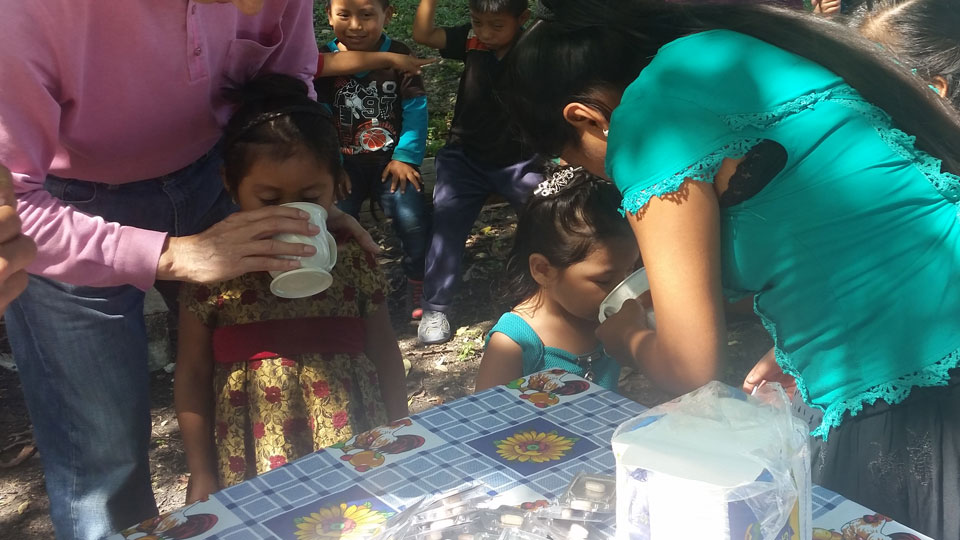 Anthelmintic drug administration
I would like to finish this report with gratitude.
Sincerely, your partner in mission, Missionary A