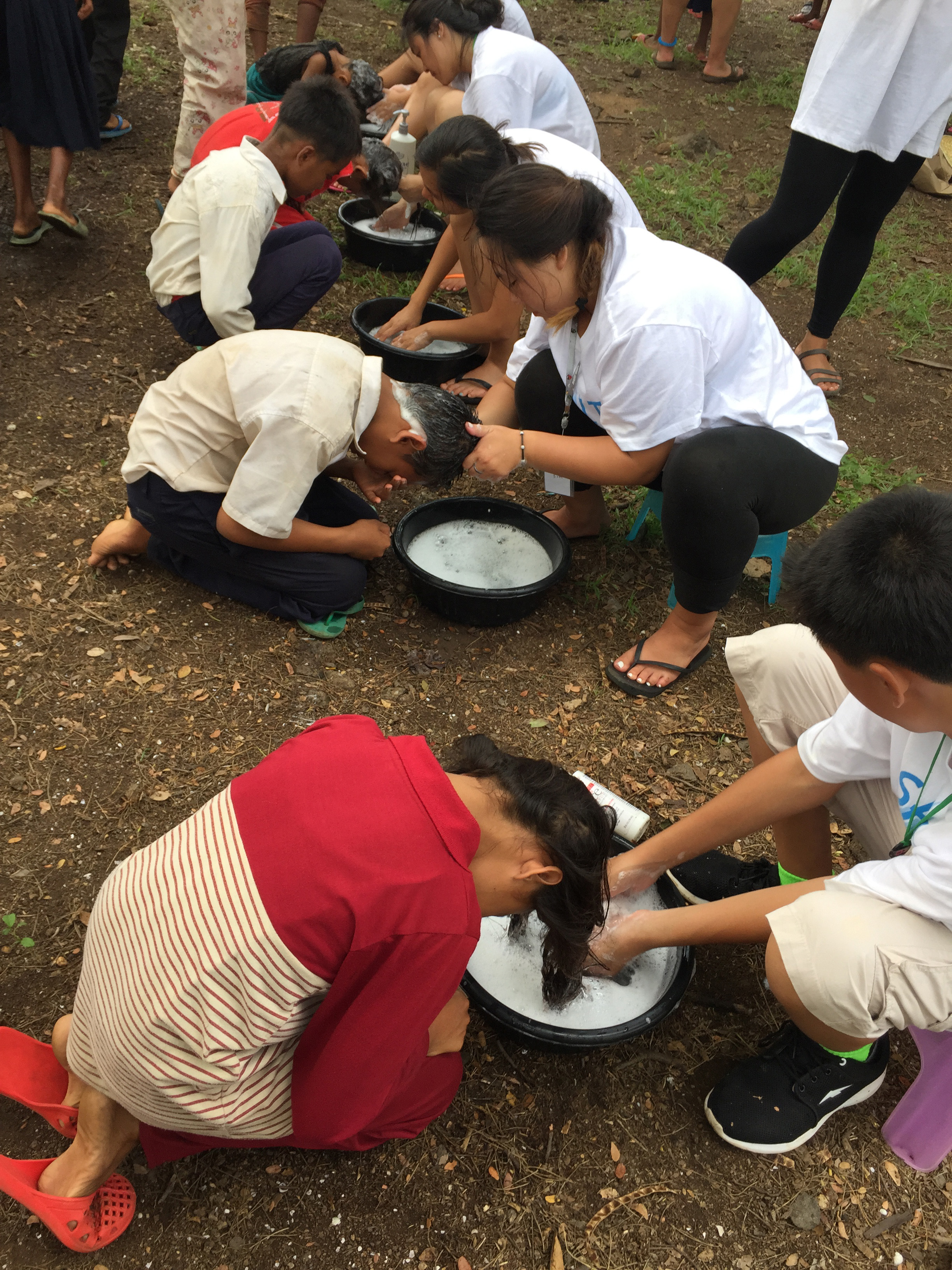 I arrived in Cambodia as usual after my 20 hour flight, carrying my usual giant immigration bag filled with medication, toiletries, and lice killing shampoo. My Cambodian family live in a village called Hansen! This village used to be completely cut off from the world for it was filled with people suffering from leprosy. If it wasn't for God's endless grace and love toward me, I would not have been able to open my heart to come here to help heal these people. I have spent 16 consecutive summers here, 3 weeks at a time, living and sharing God's love and the gospel by providing them with food and medicine.
They are no different than my biological family at this point, and they are now becoming adults like my children. They are so pure in heart, untainted from the world, and they wait for my family to arrive from the break of dawn. Every day we repeat this routine: wake up at 5am, have sunrise service, put all the goodies into a bag, and start visiting families. Some patients have a hard time getting around, so we have to visit them in person ourselves.
Cars can only enter to the beginning of the village, so we have to walk or ride a bike even with this heavy bag.
Due to high humidity and temperatures over 100 degrees, the air is thick and it is difficult to breathe. However, when these folks greet me in such a warm way, and when they smile so brightly after their treatments, all the thoughts of difficulty disappear from my head and my heart is overjoyed with glee. I wonder if I am the one actually suffering from incurable leprosy of the heart…. I wonder if I am even refusing treatment of my heart and hiding from all others in fear and shame…. Their puss filled face, hands, and feet are more beautiful than my normal looking self.
I wonder just what is the "normal" standard that we've created…for we are all beautiful precious children in God's eyes….
When I make my rounds of patients in the morning, we eat a quick lunch and then make another bag to visit more patients in their homes, or we hold a clinic for the villagers at the local church that has recently been constructed.
We usually see about 50-80 patients per day, and after treatments we spread the gospel and pray for them to accept Jesus Christ into their hearts.
On the other side of this clinic, we do mission work with providing people with glasses and lice killing shampoo, and teach children praise songs and praise dances. The whole village gets into a party mood and greet us with clean and beautiful clothes on.
Our work ends at 5pm and we return back to our base camp to have dinner, give sunset worship, and talk about what happened throughout the day.
The three weeks pass by so fast.
Thanks to your generous donations, we were able to adopt more children into the village. These children's ages range from 5 to 17.
We started this work of missions through adoption 11 years ago, and so far 70 children have been adopted into the village to give them education, nutrition, and medicine to not develop leprosy in themselves.
Even though all that we bring each year are not even close to being enough for everyone, we are praying everyday, anticipating more help from pharmaceutical companies. You don't know just how much your help means to us and my Cambodian family.
They thought that they were forgotten, that no one cared, but slowly a rainbow of hope is appearing in the sky through Global Children Foundation's help!
These villagers had no idea just how precious they were, but now they are reborn as children of God, and finding their worth in this world.
I pray that children can grow up bright and healthy in a world where there is no hunger.
I wish these children can be the end of a vicious cycle of extreme poverty and hunger, and that they can dream of bright futures.
I am so thankful to all of you at GCF that you are working so hard to make such a world seem possible.