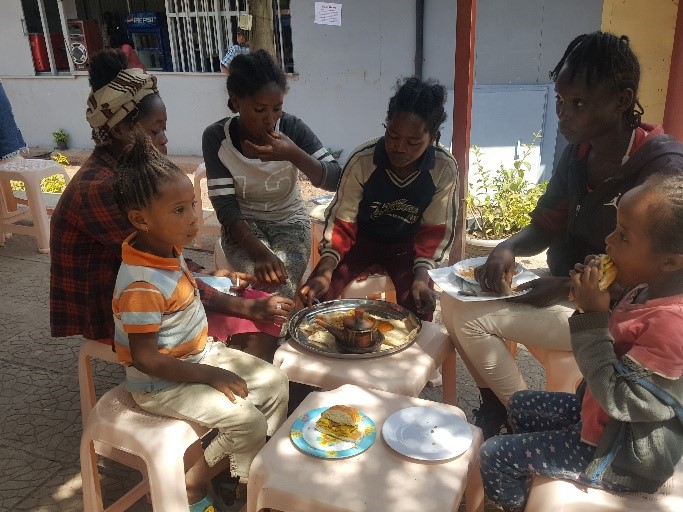 We are happy that we can share hopes and dreams with the children and young adults on the street.
Addis Ababa has the name "New Flower". Even though this city, the Capital of Ethiopia, has a short history of 130 years, it has become an important city in Africa. This is because the Africa Union HQ, the UN ECA, and over 55,000 other organizations are located right here in this city.
Even though this city is booming with organizations, there still are many slums and undeveloped villages, where many people are having difficulties living. Suffering from 17 years of communism and long famine, the whole country of Ethiopia has been experiencing an economic boom only in the recent few years. Population has increased due to more opportunities that are rising, but this city is not yet prepared for this increase, especially for the children. This country is comprised of 75% children under 15 years old, so they have a good outlook on the future increase in population, but not many opportunities exist in education and jobs. Last year I was able to experience hope as I helped 21 children due to the help from GCF.
Through my first 3-4 children that I met, I was able to watch them experience joy through shining shoes, washing car windows, watching cars and earning 1-2 dollars per day. I was able to meet more children with the funds from GCF and help them learn math, English, their own language, and help them memorize Bible verses. I was able to play soccer and Badminton with the children, which they enjoyed very much. Some of them were so excited to take a shower which they had not taken in over a week. I was able to assist in giving them assistance in keeping good hygiene, providing underwear and school uniforms and sneakers, and saw their faces brighten up completely. The children are changing every day by gaining confidence in learning, and they're able to practice a foreign language by memorizing Bible verses in English. Just the simple fact that they can shower once a week is making a huge difference in their lives and self confidence. They haven't changed completely but they're slowly starting to smile and laugh. The little money they did make, they had to send it back to their families back home so they couldn't attend school. With help from GCF they are able to actually attend school, and they couldn't be happier.
My wish is that these children continue to receive help so they can continue their education in a safe environment so they can become leaders in this country. There are also newcomers in this area. Refugees from Syria have arrived in this city as well. These refugees are living on the streets as beggars with 3-4 children of their own, and they are having a very hard time surviving. I hope to be able to one day invite them as well so these children can also receive education and receive free lunches while they are at school. We are looking for true neighbors who can help a neighbor in need. I pray that these refugee children can one day find hope and gain their smiles back.